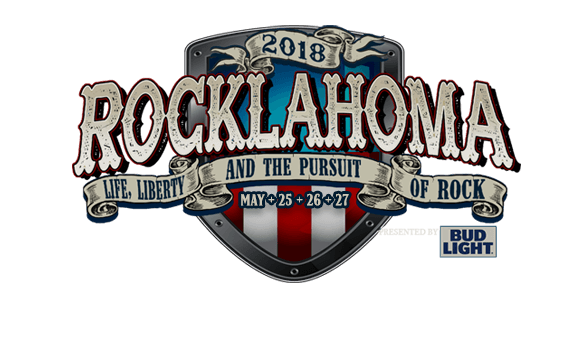 VIP tickets (and a VIP camping pass) have been purchased! It's almost time again for my annual trip to Pryor, OK for the Memorial Day Weekend musical party known as Rocklahoma. As a fan of 80s Hair Bands and early 90s bands mislabeled as Grunge, I am more excited about this year's lineup than any other Rocklahoma I've attended. I'm happy to see that Red Sun Rising, The Cult, and Diamond Head are returning in 2018 since Mother Nature had other plans for most of the bands who were scheduled to play on the Saturday schedule in 2017.
Friday, May 25th, brings us bands familiar to Rocklahoma, such as Adelitas Way, along with some other bands I'm looking forward to seeing. Stone Temple Pilots, The Cult, and A Perfect Circle are on the top of my "to see" list on this day. I never got to see the original STP lineup, but having seen video of them with their current singer, Jeff Gutt, I have a feeling they're going to give us a kick ass performance. The Cult and A Perfect Circle are also on my "never seen" list, with the exception of having seen Maynard perform with Tool once.
Saturday, May 26th, brings us Pop Evil, another Rocklahoma veteran. The highlights of this day include Powerman 5000, Diamond Head, Vince Neil, Ghost, and Godsmack. With the exception of Vince fronting Mötley Crüe, these are all first time shows for me. It promises to be a good day.
Sunday, May 27th, is the day I'm most looking forward to, having never seen Lynch Mob or Candlebox, this promises to be the highlight of the day for me. I'm also happy to see Cinderella's Tom Keifer, Halestorm, Cheap Trick, and Poison again as they always deliver.
With any luck, I'll get a chance to interview a few people from these bands. Regardless, this will likely be the best Rocklahoma I've attended (weather permitting). If you're on the fence about attending, I urge you to come and experience it for yourself. Visit Rocklahoma.com for ticket information and the full list of bands (there are more than 75 bands on three stages). I hope to see you there!