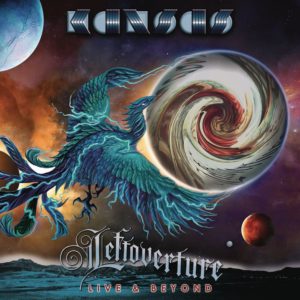 On November 3rd, 2017, Kansas released their first live album in eight years and in my opinion their best since Two For The Show back in 1978. The album was culled from a dozen U.S. shows in early 2017, on the second leg of the expanded Leftoverture 40th Anniversary Tour. The tour also comes on the heels of the 2016 release of The Prelude Implicit, their first studio release since Somewhere To Elsewhere in 2000. Although only two original members (Phil Ehart and Rich Williams) remain, you can tell right away the new members bring a fresh energy to the band.
The four 180 gram vinyl or double CD starts out with Icarus II, the only track from the 1978- 2016 era followed by Icarus (Borne On Wings Of Steel), a heavy rocker from 1975's Masque. The first CD continues to focus on the bands most influential period of 1974 through 1978 with hits and deep cuts such as Paradox, Lamplight Symphony, and the ever popular Dust In The Wind. New singer Ronnie Platt does an amazing job on the iconic ballad. Keyboard player David Manion, an Evansville native, is highlighted on Journey To Mariabronn and David Ragsdale's violin segments are played to perfection throughout.
The first CD finishes with three tracks off The Prelude Implicit. Rhythm In The Spirit, The Voyage Of Eight Eighteen, and Section 60, a moving instrumental dedicated to the members of the Armed Forces who lost their lives in Afghanistan and Iraq. The soldiers are buried in section 60 of Arlington National Cemetery.
The Second CD is a live, start to finish, performance of the 5x platinum 1976 album Leftoverture. This album is one of the truly great Progressive-Rock albums of all time. This takes you back to a day before 99 cent singles and digital downloads when an album stood as a thoughtfully arranged collection of songs and an idea the artist wanted to convey to you as a fan. You put on your headphones, dropped the needle in the groove, and let the music take you on a forty-five minute journey.
From the opening fifteen second vocal harmonies of Carry On Wayward Son, we were off. It was here that I had my first disappointment with the CD. Ronnie Platt felt the need to put his own subtle stamp on the classic song and I realized just how underrated vocalist Steve Walsh really was.
As the CD progressed, it fell back into line with what I was expecting and I had to remind myself the five out of the seven musicians on stage were not present when this album was created and recorded. Once I had accepted that, I relaxed and enjoyed the performance for what it was, a fresh look at a classic piece of art. I especially enjoyed Miracles Out Of Nowhere, Cheyenne Anthem, and the ten minute-six part, masterpiece known as Magnum Opus closed the show.
But wait, we also got an encore of Portrait (He Knew) from Point Of No Return reminding us that in October of 2017 we passed the 40th Anniversary of that landmark release, so maybe next year we can do this all again. We can only hope.
As a closing note, for those lucky enough to attend this tour, they opened every show with a five song acoustic set that wasn't included on this recording for some reason. That would have been the cherry on the sundae, but I still give this album 4 out of 5 stars. My highlights include Icarus (Borne On Wings Of Steel), Section 60, and of course Magnum Opus.
Put on your headphones, drop the needle in the groove, and enjoy.
Have a comment about this review? Add it to our Facebook post.
https://www.facebook.com/agesofrockpodcast/posts/738184656369952